We Will Buy Your Car at Land Rover Naperville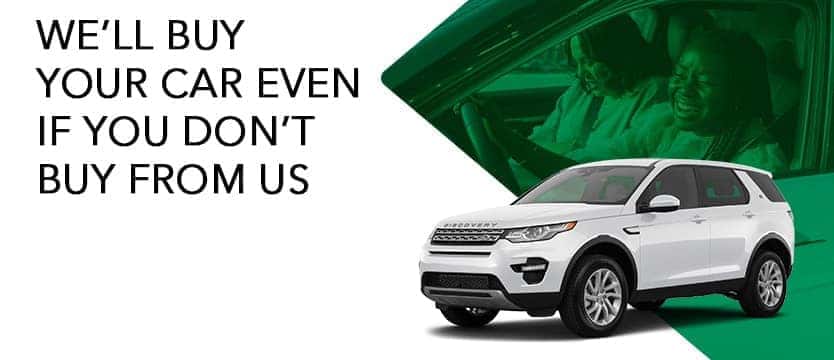 Why Should You Sell Your Car to Land Rover Naperville?
Are you wanting to sell your car but you're unsure of where to start? Give Land Rover Naperville near Plainfield, Glen Ellyn, and Woodridge IL a chance! You can have your vehicle appraised by our Sales Managers right when you come in, and if you want to sell it to us, we'll cut you a check – you don't even have to purchase a vehicle from us and we'll still buy your car, SUV or truck from you! If you have any additional questions, please take a look at our Q&A below or submit an inquiry and our Patrick Direct team will reach out to you to schedule an appointment for an appraisal.
It's as Simple as 1 – 2 – 3

Selling a Car at Land Rover Naperville
Can I sell my car to Land Rover Naperville without buying a car?
Yes, and our offer will be the same whether you're buying from us or not.
Do I need an appointment to get an offer on my car?
It's recommended to make an appointment to sell your car or get an offer. We suggest starting with submitting a trade-in inquiry to get started and a member of the Patrick Direct team will reach out. Get started by clicking here.
What can I expect during my appointment?
Our low-touch in-store appraisal and buying process allows us to make an offer without sitting in your vehicle or touching your car's most frequently used areas.
You'll observe your car's appraisal – maintaining a distance of at least 6 feet from your appraiser – and will be asked to assist with turning your car on or off, and opening or closing doors, windows, and trunk spaces.
Offers may be contingent on verifying a car's mechanical condition with a test drive and/or a review of the cosmetic condition of the vehicle, but the test drive and verification only occur if you choose to sell.
If you decide to sell, you can leave with payment in hand. You can also take up to 7 days to compare your options.
If you're trading in, you can apply any positive equity from your current car to the down payment on your next car.
How do you determine my offer?
We review current market conditions as well as your car's specific year, make, model, mileage, and vehicle history report. We examine your car's condition inside and out for major defects like frame or flood damage. We also test drive your car and check to see if the brakes and turn signals are working (among other things). If repairs are needed, we may adjust our offer accordingly. Regarding cleanliness, the long-term maintenance and care of your car are the most important in determining our appraisal offer.
What do I need to sell my car?
Requirements can vary from state to state, but there are a few items you'll need no matter where you are:
Your car's title or payoff information. All titleholders should be present.
Valid and current registrations
Valid state-issued photo ID for all title holders
All keys and remotes
Please note that you don't need these things to get an offer for your car, but if you think you plan to sell when you get your offer, you should come prepared with these items.
What if I still owe money on my car? If your payoff amount is more than the offer for your car, the difference is called "negative equity." In some cases, the negative equity can be included in your financing when you buy at Land Rover Naperville. If not, we'll calculate the difference between your pay-off and our offer to you and you can pay Land Rover Naperville directly. We accept cashier's checks, certified checks, certified funds, cash, and debit cards. Our written offers are good for seven days, giving you time to get any necessary funds to settle your transaction.
How will we pay you for your car?
If you come in with everything required to sell your car, you will receive a check within 5 to 10 business days.
Can I sell a car on behalf of a company?
If you are part of a company that owns or leases vehicles for employees, please contact us for the requirements needed to submit an inquiry or call 630-413-0693
Make sure you stop in at Land Rover Naperville in Naperville, IL for a fast and painless car appraisal, and we'll cut you a check! Our Land Rover dealership located near Saint Charles and Geneva will be sure to get you the best offer for your used car, SUV or truck.
---